Solid waste management
I have been to quiet several places and one of the first things we notice is the cleanliness of the area. Solid waste management. It is not only important to give us clean and beautiful surroundings, but wastes are growing menace adversely affecting the environment (let's go green!), especially the non-degradable wastes. As much as possible they should be reduced, if not eliminated, and more importantly, segregated from those degradable waste, for better management. This is what we do at home.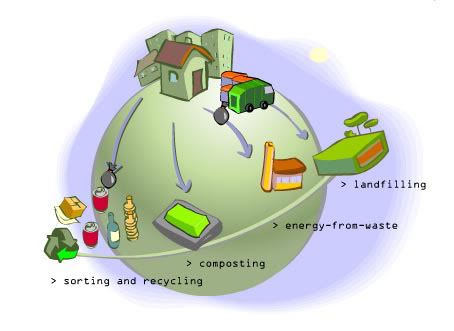 There are some simple strategies to reduce solid waste within your place or company to a "zero solid waste", sustainable solutions to waste management:
Reducing the waste per unit of output so that the total generation of waste comes down significantly helps a lot in making your area organized and clean.
Ensure recycling of all wastes generated by your company operation or in the household. This is where the waste segregation really makes everything easier.
Third is to maximize the reuse of wastes as raw material. Things that are still okay if used to their full service life and not thrown away will help give us a better environment.
____________________________________________________________________
____________________________________________________________________ Found this article useful? Mention us in your post, subscribe to our feed, link to us, or bookmark this site. Thanks for your support!
Subscribes