Enforcing smoking bans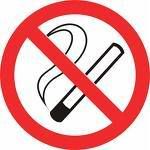 The big time I heard about smoking ban in a certain place is in Davao City, Philippines, through the initiative and mayoral power of Rodrigo Duterte. Several cities followed suit and even countries abroad. The smoking ban became popular internationally, which it should be. So you see it just showed that when there is a will there is a way, despite many objections along the process from big businesses and lobbyists. It was so effective that laterally no one smoked then, in public places. It is not just for a cleaner environment and fresher air, but most importantly, good health for the citizens too, aside from being spared from being slapped by the mayor in the public place once caught aside from other punishments.
What is interesting is that smoking ban is just being enforced July 1 in the Netherlands where people are free to smoke even marijuana and or cannabis in public places like coffee shops and cafes. We saw it in Amsterdam during our trip. From the first day of this month and on, any businesses caught allowing customers to smoke, those cafes, bars and restaurants, would be warned and repeat offenders would face escalating fines. Will it be effective in a place where smoking (prohibited) drugs is allowed? Why not. When there's a will, there's a way, for greener health and earth. It is after all, for our own good.
Article: Dutch smoking ban goes into force.
____________________________________________________________________
____________________________________________________________________ Found this article useful? Mention us in your post, subscribe to our feed, link to us, or bookmark this site. Thanks for your support!
Subscribes